The film debut by Juan Vera, producer of Pablo Trapero and Lucrecia Martel, stars Ricardo Darín and Mercedes Morán
The Argentine film El amor menos pensado (An Unexpected Love) will open the 66th edition of the San Sebastian Festival. The film, a candidate for the Golden Shell, represents the moviemaking debut of the screenwriter and producer Juan Vera. Co-producer of Zama, helmed by Lucrecia Martel, Elefante blanco and Carancho, directed by Pablo Trapero, Vera has as the stars of his first work Mercedes Morán and Donostia Award-winner Ricardo Darín, who was also involved as a producer together with his son, Chino Darín.
The story focusses on a couple who, after 25 years of marriage, are going through a crisis which drives them to separation and prompts them to question themselves about love, desire and the passing of time.
Mercedes Morán (Villa Dolores, Argentina, 1955) has worked with some of the big-name Latin American filmmakers: Lucrecia Martel, Juan José Campanella, Walter Salles, Ana Katz (Los Marziano, Official Selection 2011) and Pablo Larraín. Her work in Sueño Florianópolis landed her this year's Best Actress Award at the Karlovy Vary Festival. At this year's Un Certain Regard, she also premiered El ángel, to be screened in Perlak.
Ricardo Darín (Buenos Aires, 1957), one of the most prestigious Latin American actors, received last year's Donostia Award in recognition of a career which has seen him work with moviemakers including Adolfo Aristarain, Campanella, Fabián Bielinsky, Fernando Trueba, Trapero, Cesc Gay and Santiago Mitre. His films have enjoyed strong presence in San Sebastian over the last two decades: he has competed in the Official Selection four times, he was a member of the official jury in 2012, and he has harvested, as well as the Donostia Award (with screening of La cordillera [The Summit]), the Best Actor Silver Shell ex aequo with Javier Cámara for Truman and the Audience Award for Best European Film for Relatos Salvajes (Wild Tales).
---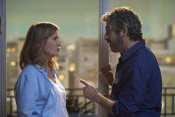 EL AMOR MENOS PENSADO (AN UNEXPECTED LOVE)
Juan Vera  (Argentina)
Cast: Ricardo Darín, Mercedes Morán, Claudia Fontán, Luis Rubio, Andrea Pietra, Jean Pierre Noher, Claudia Lapacó, Chico Novarro, Andrea Politti, Gabriel Corrado, Andrés Gil, Mariú Fernández, Norman Briski, Juan Minujín
Opening Film (In competition)
After 25 years of marriage, Marcos and Ana question themselves deeply on the subject of love, the nature of desire and faithfulness, making a decision that will change their lives forever.